31 May, 2011 at 21:08 | Posted in
China
,
human rights
,
persecution
|
Leave a comment
Tags:
CCP
,
censorship
,
China
,
human rights
,
persecution of dissidents
By Matthew Robertson
Epoch Times Staff
NEW YORK—In China he would visit karaoke bars after work and get bundles of fresh lamb delivered to his doorstep for bribes. Now, living in the Chinese enclave of Flushing, New York, he works a menial job and hardly scrapes by.
Zhang Kaichen, 55, has been in the United States since late 2009. His visa for political asylum is still in the pipeline, he has gained no support from the U.S. government, and has received no interest from American intelligence agencies—which is surprising, given his former life: Zhang is a defector from the Chinese Communist Party (CCP), and for decades was one of its chief propagandists in the northeastern city of Shenyang, Liaoning Province.
Over a recent lunch at a restaurant in Flushing, he told his story to The Epoch Times.
As director of the Liaison Branch of the Shenyang Chinese Communist Party Committee's Propaganda Department, Zhang's job was to make sure the Party Line was being implemented across all media. He would arrive at the sites of forced demolitions—where, for example, someone may have been beaten in an attempt to make them leave their home, or someone may have set themselves on fire in protest—and tell the journalists to scram.
"What work unit are you with?" he would first snap at them. They would tell him. "There's no news here. If you report this, our City Party Committee will deal with you," he would say. He didn't need to say more; everyone knew what that meant.
Now he is on the opposite side of the fence, penning blistering polemics decrying what he calls the Chinese communist menace that controls China, appearing on dissident television shows to reveal the inner workings of the secretive propaganda apparatus, and giving public speeches on how the march toward democracy in China is inevitable, and that the Party must, and will, collapse.
One of his first gestures upon getting out, in fact, was to publicly renounce the CCP through the Tuidang movement. Tuidang is a volunteer organization that solicits withdrawals from the CCP and its associated organizations, from both Party and non-Party members. Zhang was a guest of honor at one of their meetings, and he received an official certificate severing his ties. He believes, essentially, that the Communist Party is nothing more than a sinister mafia that seeks to expand its own power.
The germ of dissent entered Zhang's mind in 1973, as he witnessed the insanity of Maoism running rampant in China. It lay dormant with little chance to fester until 1989, with the massacre of students during the Tiananmen demonstrations. At that stage, however, he needed a job, and his superb command of the Chinese language made the state propaganda industry an attractive option. Benefits extend far beyond the official remuneration, and one enters a kind of old boys club that rules the roost.
He was satisfied with the lies, karaoke bars, and fresh lamb until 2006. A colleague gave him a subversive piece of software called "Free Gate," which allowed unrestricted access to the Internet. He began exploring the real news about China's current predicaments under CCP rule, and at the office every day would secretly look at websites like the Chinese edition of this newspaper, Radio Free Asia, New Tang Dynasty Television, Voice of America, and others. At night he would go home and continue reading.
The germ of 1973 was given a chance to grow, and by 2007 Zhang was emerging from disillusionment with the system to a recognition that it was broken beyond repair.
"In my youth I understood the CCP's essence, the system and its ideology," he said. He had vague notions that things changed over the decades. "But later I realized," he said, that the CCP of his youth is the CCP of today. "It was precisely this: Deng Xiaoping is Mao Zedong. Jiang Zemin is Mao Zedong. Hu Jintao is Mao Zedong."
He felt that he could not stay in China. "This society doesn't need people who speak the truth or thirst for knowledge. The Party is the truth. The Party leaders are knowledge. They're the standard. You have to unconditionally follow them," he said.
Read more: For Former Propagandist, Communism in China Is Not Dead… Yet | China | Epoch Times
31 May, 2011 at 10:35 | Posted in
China
,
Environmental issues
,
Food
|
Leave a comment
Tags:
China
,
environmental issues
,
Food
,
health
…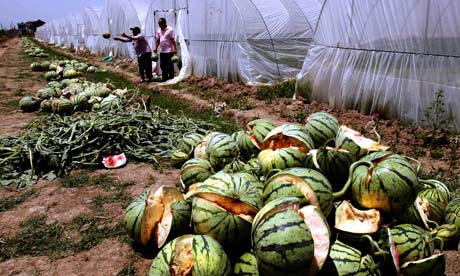 …
Jonathan Watts, Asia environment correspondent
The Guardian
New food scandal as fields of watermelons are destroyed after farmers mistakenly apply growth accelerator.
The flying pips, shattered shells and wet shrapnel still haunt farmer Liu Mingsuo after an effort to chemically boost his fruit crop went spectacularly wrong.
Fields of watermelons exploded when he and other agricultural workers in eastern China mistakenly applied forchlorfenuron, a growth accelerator. The incident has become a focus of a Chinese media drive to expose the lax farming practices, shortcuts and excessive use of fertiliser behind a rash of food safety scandals.
It follows discoveries of the heavy metal cadmium in rice, toxic melamine in milk, arsenic in soy sauce, bleach in mushrooms, and the detergent borax in pork, added to make it resemble beef.
Compared to such cases of dangerous contamination, Liu's transgression was minor, but it has gained notoriety after being picked up by the state broadcaster, CCTV. The broadcaster blamed the bursting of the fruit on the legal chemical forchlorfenuron, which stimulates cell separation but often leaves melons misshapen and turns the seeds white.
Read more: Exploding watermelons put spotlight on Chinese farming practices | Environment | The Guardian
More info: Fields of Watermelon Explode in China Farm Fiasco
31 May, 2011 at 08:19 | Posted in
China
,
human rights
,
slave labor camps
|
Leave a comment
Tags:
CCP
,
China
,
human rights
,
labor camps
…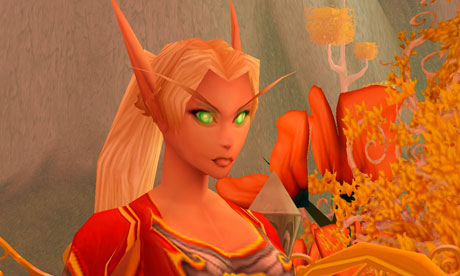 Danny Vincent in Beijing – guardian.co.uk
As a prisoner at the Jixi labour camp, Liu Dali would slog through tough days breaking rocks and digging trenches in the open cast coalmines of north-east China. By night, he would slay demons, battle goblins and cast spells.
Liu says he was one of scores of prisoners forced to play online games to build up credits that prison guards would then trade for real money. The 54-year-old, a former prison guard who was jailed for three years in 2004 for "illegally petitioning" the central government about corruption in his hometown, reckons the operation was even more lucrative than the physical labour that prisoners were also forced to do.
"Prison bosses made more money forcing inmates to play games than they do forcing people to do manual labour," Liu told the Guardian. "There were 300 prisoners forced to play games. We worked 12-hour shifts in the camp. I heard them say they could earn 5,000-6,000rmb [£470-570] a day. We didn't see any of the money. The computers were never turned off."
Memories from his detention at Jixi re-education-through-labour camp in Heilongjiang province from 2004 still haunt Liu. As well as backbreaking mining toil, he carved chopsticks and toothpicks out of planks of wood until his hands were raw and assembled car seat covers that the prison exported to South Korea and Japan. He was also made to memorise communist literature to pay off his debt to society.
But it was the forced online gaming that was the most surreal part of his imprisonment. The hard slog may have been virtual, but the punishment for falling behind was real.
"If I couldn't complete my work quota, they would punish me physically. They would make me stand with my hands raised in the air and after I returned to my dormitory they would beat me with plastic pipes. We kept playing until we could barely see things," he said.
It is known as "gold farming", the practice of building up credits and online value through the monotonous repetition of basic tasks in online games such as World of Warcraft. The trade in virtual assets is very real, and outside the control of the games' makers. Millions of gamers around the world are prepared to pay real money for such online credits, which they can use to progress in the online games.
Read more: China used prisoners in lucrative internet gaming work | World news | guardian.co.uk
Blog at WordPress.com. | Theme: Pool by Borja Fernandez.
Entries and comments feeds.